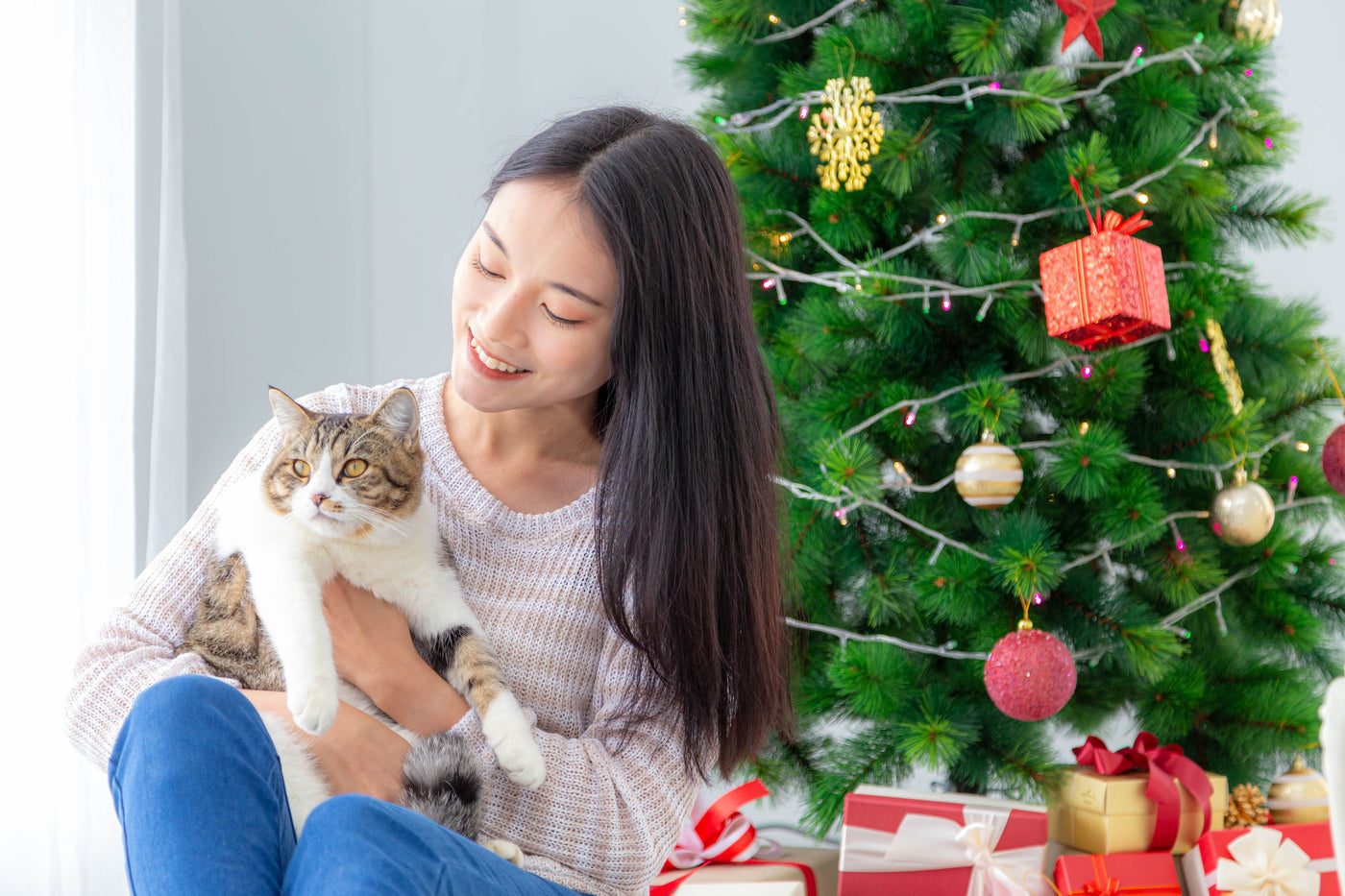 Top 10 Christmas Gifts for Cats of 2021
Your cat brings endless joy into your home and heart. There's no better way to give back to your cat than with a gift that will enrich their environment. We've curated the top 10 cat gift ideas for this holiday season and beyond! Peruse these pawesome ideas and give your cat something to purr about.
1. Da bird cat toy
Your cat will flip over da bird feather teaser—literally! Unleash your cat's inner-acrobat and high-flying antics. Replacement feather packs keep the thrill of the chase soaring.
2. One Fast Cat wheel
Cats need a lot of exercise to counterbalance their long naps. A great way for cats to keep their svelte body is with the One Fast Cat cat wheel! It's a safe and fun indoor exercise wheel for your cat. Exercise also prevents cat boredom and bad-kitty behavior. 
Plus, One Fast Cat offers plenty of guidance so you'll know exactly how to get your cat to run miles on the wheel. They also offer free shipping in the lower forty-eight. Now your favorite felines can get all the exercise they need to be healthy and happy.
3. Delicious, nutritious cat treats
Our cats don't need ingredients we can't pronounce. Treats should be nutritious, delicious, and a healthy part of your favorite feline's diet. Purebites cat treats have one ingredient. These are natural treats made using a single simple, pure ingredient. Our recommended fave is the shrimp offering, but all of the protein options are winners with Basepaws cats!
4. Cat tree with condo, hammock, and vertical space to leap
Cats are born climbers and they thrive when we give them vertical space! This cat tree by Frisco offers it all—cat condo, lounge basket, scratching posts, and a top perch soaring over six feet off the floor!
A cat tree is an important addition to any feline-loving home because cats need to climb, have places to scratch, and enjoy high perches so they can look out over their kingdom (your living room). Cat trees offer mental stimulation, which staves off boredom and helps manage stress.
5. Litter-Robot self-cleaning litter box
Happy cats have clean litter boxes. Meet the next generation of litter boxes—the Litter-Robot self-cleaning, odor-reducing, WiFi-enabled litter box. Scooping litter will be a thing of the past. And don't forget the litter box golden rule: one for every cat, plus one more. 
6. Self-heating cat bed
Finally, a cat bed that your cat will like more than a random box! Self-heating beds and mats are great to keep our kitties warm. No cord, no electrical outlet needed. These gems heat up just from your cat curling up for a cozy cat nap. This Thermo-Kitty cat mat gives the gift of warmth. Keep your favorite feline purr–fectly toasty through this winter and beyond!
7. Pumpkin® pet insurance + preventive care
You know what they say, the best treat is a healthy life. Here at Basepaws, we believe wholeheartedly in this, too. Pet Insurance Plans from Pumpkin® help you keep your cat healthy and the cost of veterinary care affordable. Pumpkin® offers best-in-class pet insurance wellness plans and up to 90% cashback on eligible veterinary bills. Check them out today! Cats around the nation give them four paws up.
8. Custom pet portraits by West and Willow
There are few things in the world more beautiful than your cat, right? We get it and we feel the same way about ours. West & Willow create custom pet portraits from your pet's photo. Home décor done right includes cat portraits of your favorite feline. West and Willow cat portraits also make the purr–fect give for your pet-loving friends.
9. Catnip cat kicker
Your cat will go bananas over this yellow banana catnip cat toy by Yeowww! There's nothing more endearing than watching your cat go wild for their newest toy—and this banana is sure to deliver. It's packed with 100% organically grown, high-quality catnip. This cat toy is handcrafted, made in the USA, and has no cotton fillers or dangerous plastic pieces. This is the catnip-infused cat kicker that will please even the pickiest of felines!
10. The gift of cat health and wellness
Just as we screen our own DNA to understand our origins and test for genetic disease predisposition, we can screen our cats as well! It's incredible that this science is now affordable and available for our favorite felines. The Basepaws Breed + Health DNA Test screens for 115 health and trait markers, 43 genetic diseases, and includes a comprehensive breed analysis. 
Cat DNA testing empowers you to be the best cat parent you can be. Discover your cat's unique needs based on their breed composition. Protect your cat's health and wellness AND get peace of mind by knowing if your cat is predisposed to developing certain genetic diseases. All these answers to curb your curiosity with a simple, at-home cheek swab. Digital report delivered to you in weeks. 
Personalized care, more purrs. Order yours right meow!