How it works
Sign up
Create an account and register your CatKit.
Swab
A quick 5-10 seconds swab is all it takes. Make sure to get both gums and teeth.
Send
U.S. shipping is FREE both ways, just drop it in a USPS mailbox.
Report
Receive results in 4-6 weeks.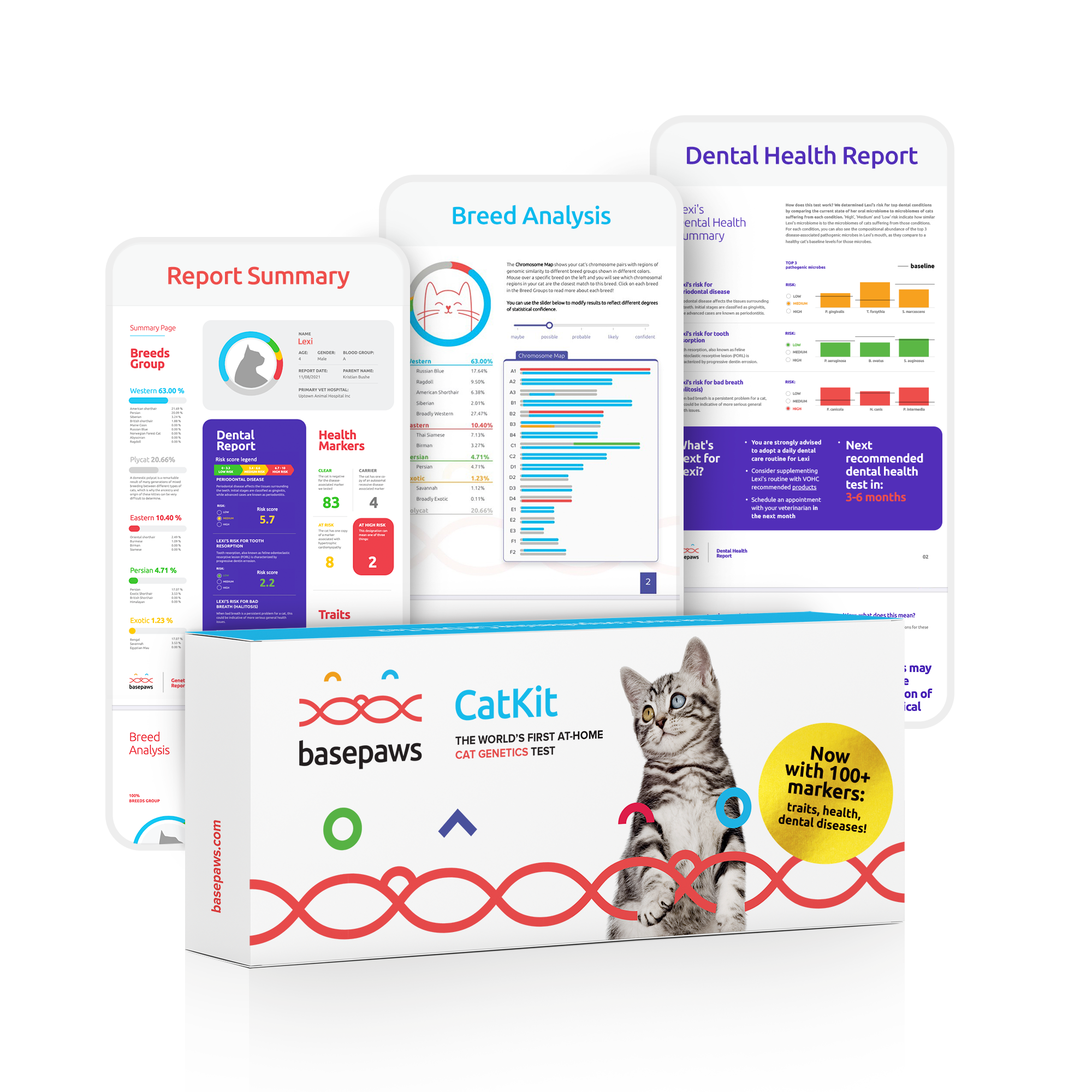 NEW
Genetic Health Markers & Blood Type Screening.
The upgraded digital report will provide results for over 114 known feline genetic markers, including new markers for hypertrophic cardiomyopathy (HCM), the most common form of heart disease in cats. Another new feature includes genetic markers for blood type. Knowledge of a cat's blood type can be helpful to the cat breeding process as well as support life-saving medical decisions, such as when a cat needs an emergency blood transfusion.
SCREEN FOR COMMON FELINE DISEASES
A Healthy Cat is a Happy Cat.
Your cats won't tell you when they're sick. We test for 64 genetic markers, reporting on mutation carrier status and predisposition to 43 diseases, including:
Polycystic Kidney Disease (PKD)
Hypertrophic cardiomyopathy (HCM)
Retinal degeneration
Myotonia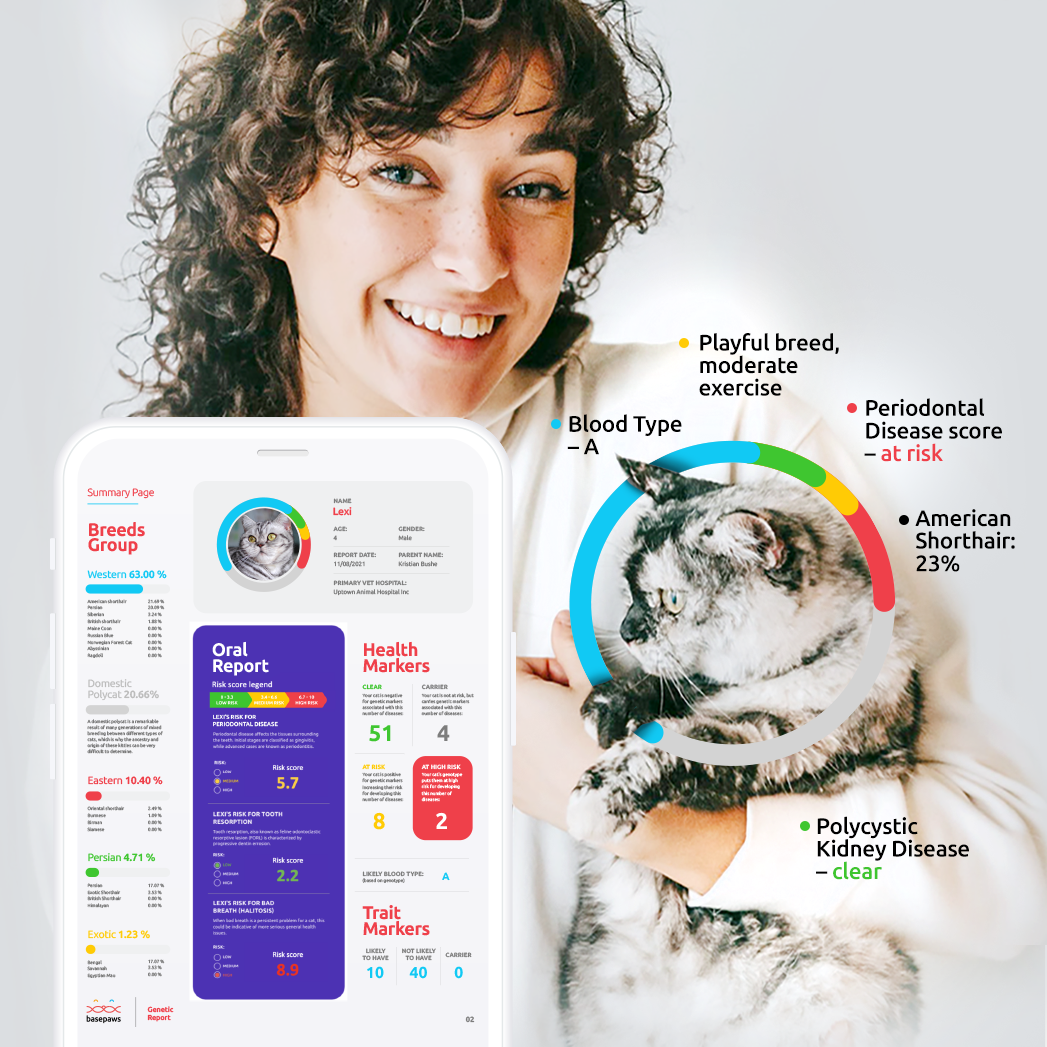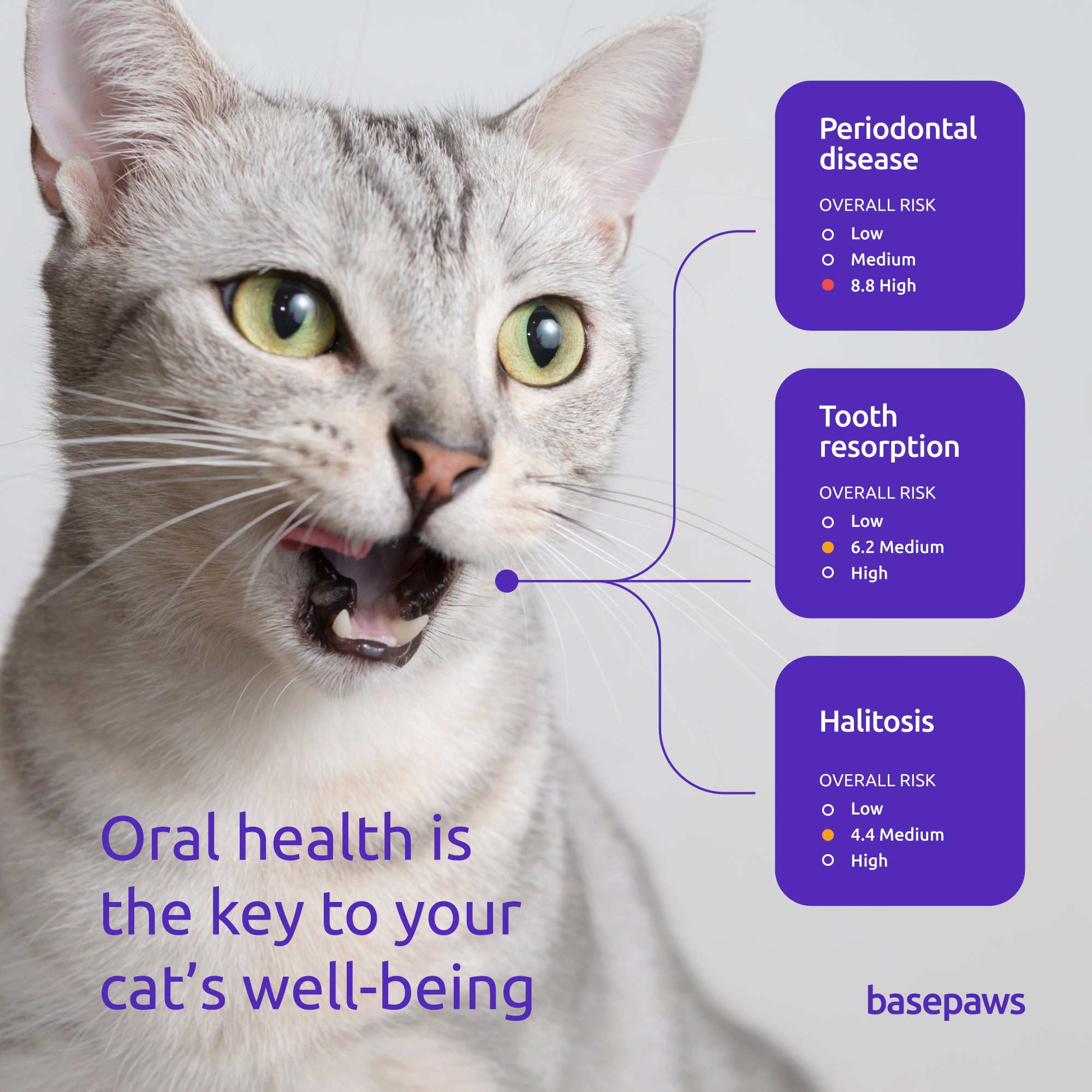 PROACTIVE PET CARE
Dental disease. It's a reality for most cats.
Your cat can't raise their paw and tell you their mouth hurts. Because of this ability to hide pain, usually when they exhibit the common signs, the disease is advanced and needs medical attention. This makes oral microbiome testing so critical, especially for cats!
GET INSIGHTS ABOUT YOUR CAT
Let Their Genome Do the Talking.
What part of your cat genome is similar to a Western Maine Coon? An Eastern Burmese? Or a perfectly adorable Domestic Polycat? Using our world-class feline genomic database, Basepaws can estimate your tabby's genomic similarity to more than 21 breed types and 4 breed regions.
Read our customer stories
How the Basepaws Oral Health Test Saved This Cat's Life.
Basepaws Cat "Baby" was always a happy and healthy kitty. When the Basepaws Oral Health Test discovered that he was at medium risk for several feline dental conditions, Baby's parents took him to the veterinarian. In preparation for Baby's dental cleaning, the veterinarian uncovered a health issue that saved Baby's life. We interviewed Corinne, Baby's guardian, and here is their story.
Read the story
Frequently Asked Questions
Once you receive your cat's DNA kit in the mail, follow the detailed instructions for sample collection and barcode registration located on the inside of the CatKit box. After collecting your sample, send it back to us in the provided prepaid packaging. We will notify you via email once your sample is received.
Your report will be available in 4-6 weeks from the date your sample arrives at our laboratory. We are working on trying to shorten this time frame as much as possible. In the rare cases where a sample fails internal quality checks and needs to be reprocessed, we will contact you regarding the next steps.
Long-term, we plan to provide the results within 4 weeks.
Every sample helps us create the biggest database of feline genetic data.
Breed is among our top priorities. We test by analyzing your cat's DNA sample to uncover how genetically similar it is to the DNA of 21 different modern-day purebred cat breeds, as well as to all the other cat DNA samples we receive from customers just like you. Not all breeds are included (yet!), but we work with top breeders to get enough viable DNA samples from other breeds so that we might include them in our panel in the future. As we expand our kitty community, your cat's report findings will continue to be refined and show an ever-evolving breed percentage profile. Take a look at our sample report to get an idea of how we provide a percentage breakdown of your cat's shared genetic similarity with top 21 modern-day purebred breeds.
Yes. For all orders in the continental U.S., a pre-paid return shipping label is included in every kit. Simply register your kit, swab your cat, and send it back to us.
*INTERNATIONAL CUSTOMERS outside of the U.S.: Return postage is NOT included.
Yes! We charge $15 for International shipping (return shipping NOT included).
PLEASE NOTE: We cannot guarantee that you will or will not be charged any customs taxes or duties. Any customs or import duties are charged once the parcel reaches its destination country. These charges must be paid by the recipient of the parcel. This applies only to International and Canadian orders.