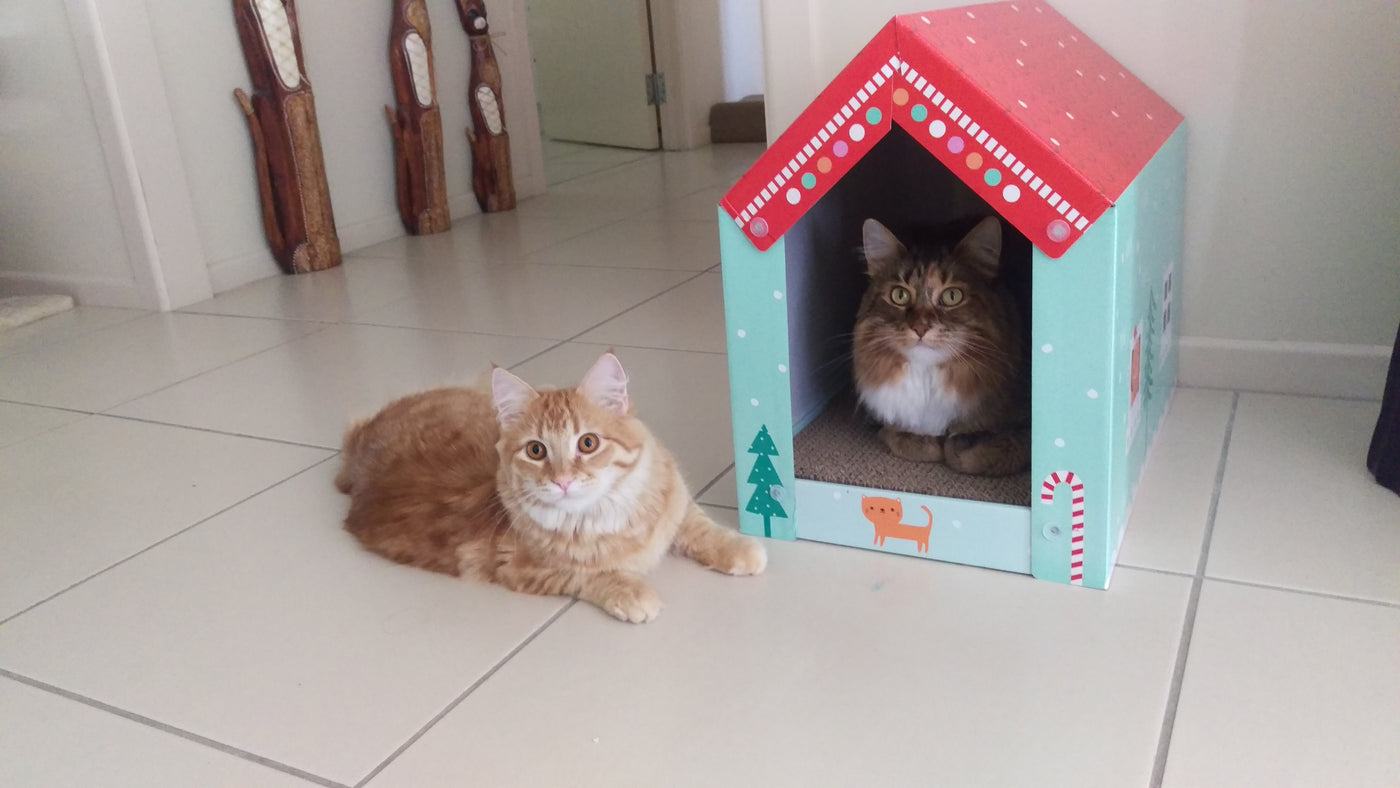 Basepaws Cat Story From The Land Down Under
Lucy is an independent and playful 5-year-old female tabby cat. She kindly shares her home (and fur-mom) with Sheldon, a 2-year-old male ginger kitty. Sheldon loves a good mischief and plays the important role of the rambunctious cat of the household. Their cat guardian, Jenna, is a kindergarten teacher (age group 3-5), who often takes care of young, abounded cats in need. Luckily, Lucy and Sheldon are always there to lend a paw in taking care of the foster kittens in the house! How else would Jenna be able to handle it? 😉
Jenna tested her helping paws with Basepaws in hopes to learn more about their DNA, breed ancestry and health. This information was particularly important to her as she had previously lost Lucy's brother Harry to a devastating genetic kidney disease:
"I adopted siblings Lucy and Harry in 2014 from our local RSPCA in Australia. They were inseparable and a joy to have in my home. When they were 2 ½, I noticed a lump on Harry's side." - told us Jenna. She spent the following 3 weeks in and out of the vet's office with Harry, until the diagnosis was finally established. Harry was suffering from polycystic kidney disease, and his extremely enlarged kidney had to be removed. "Unfortunately his other kidney was not functioning either, and he sadly had to be put down. This was an extremely traumatic experience for me." - Jenna heart-brokenly shared about her devastating loss.
Basepaws cat Lucy with her late brother Harry
"Lucy and Harry were the first cats I adopted after moving out of the family home. They were my babies. I was heartbroken and spent the next few days seeking comfort by watching the online kitten Livestream TinyKittens based in Canada. There were 5 kittens who were only a few weeks old, and they gave me something to smile about. This inspired me to reach out to the local RSPCA and see if they had any single kittens that needed fostering (with the intention to adopt them if Lucy coped well with a new kitten). As fate would have it, they had a tiny little ginger boy who was just starting to regain his health after having a pretty rough start."
Jenna was informed that the young kitten was lethargic, underweight and in desperate need of a furever home. She decided to foster the little boy named Sheldon and see if Lucy would accept him. "He was 9 weeks old and only 800g when we got him. This was just 2 weeks after losing Harry. Although there is nothing that will mend the hole in my heart from losing Harry, rescuing Sheldon and giving him a loving home was a pretty good start. Lucy was fine with having a new little brother and he quickly made himself at home." Sheldon is now a very loved 2½-year-old who is thriving in his happy home. "He is such a funny and sweet boy." - told us Jenna - "He is still very much a kitten at heart and when I began fostering kittens last year, he thought it was great. Uncle Sheldon helps to clean the kittens and keeps them entertained by playing chase around the house." What a helpful little pet!
"This is the first picture I got of baby Sheldon. It made my heart melt and I knew he would be perfect for us. Despite his fluffiness, he only weighed 700g at that point (8 weeks old). He was neglected by the people that he lived with and they surrendered him to the RSPCA (thankfully), because he wasn't growing." - told us Jenna about this photo.
While Sheldon lies in charge of playing and entertaining, Lucy is a sweet kitty who loves her belly rubs and sleeps by Jenna's side every night. "Lucy loves 'helping" me sew. She hears me get the fabric out and she comes running from anywhere to sit on it. She can be very affectionate (on her terms - she is a torbie and can sometimes have torbitude). She is scared of strangers, but her confidence has grown and now comes out to greet familiar people." - explained Jenna.
Basepaws cat Lucy helping Jenna sew
"I got Lucy and Sheldon's DNA tests because I wanted to find out more about their breeds (as their backgrounds are unknown due to being stray kittens). I also want to see if there are any health issues that I need to look out for - especially since PKD is potentially passed on to all kittens in a litter." Both kitties got their Basepaws breed reports, but only Lucy received her health report. And luckily, she is in the clear from all the markers associated with any of the 17 diseases we test for, including PKD. Phew!
As for the breed results, both of Jenna's cats turned out to be genetically closest to Western breeds in our database, with Abyssinians being their highest rank. Lucy is more similar to Abyssinians than 63.35% of all other cats in our database, and Sheldon more DNA than 51.39%. They are both a 100% precious and sweet, however!
If not caring for her furry duo or the foster younglings, Jenna teaches little hoomans (3-5 years old) in a kindergarten. To help raise awareness about animal welfare, she uses her position as an opportunity to teach her young students about animals, cat rescues and other problems our furry friends face every day:
"After watching TinyKittens and learning so much about raising kittens, TNR (trap-neuter-return), fostering and other things about cat care, I can now educate the children about animal welfare and cat rescues. We have a lot of stuffed cat toys inspired by some of the cats we see on the Livestream at TinyKittens. Every weekend we assign one toy to each child to take home and foster until the following week. We also arrange for vets to come in and chat with the children about caring for animals. Although losing Harry was extremely sad for me, I am glad I can use what I have learnt from this experience to educate others and to help kittens in need."
Basepaws cats Lucy and Sheldon
Jenna, thank you so much for kindly talking about our lovely Basepaws cats Lucy and Sheldon! We love having you on board for our mission and we hope to deliver some new updates to your reports soon. And finally, thank you for helping so many cats in need and helping bring up a pawsome group of young hoomans as well! #futureisfeline