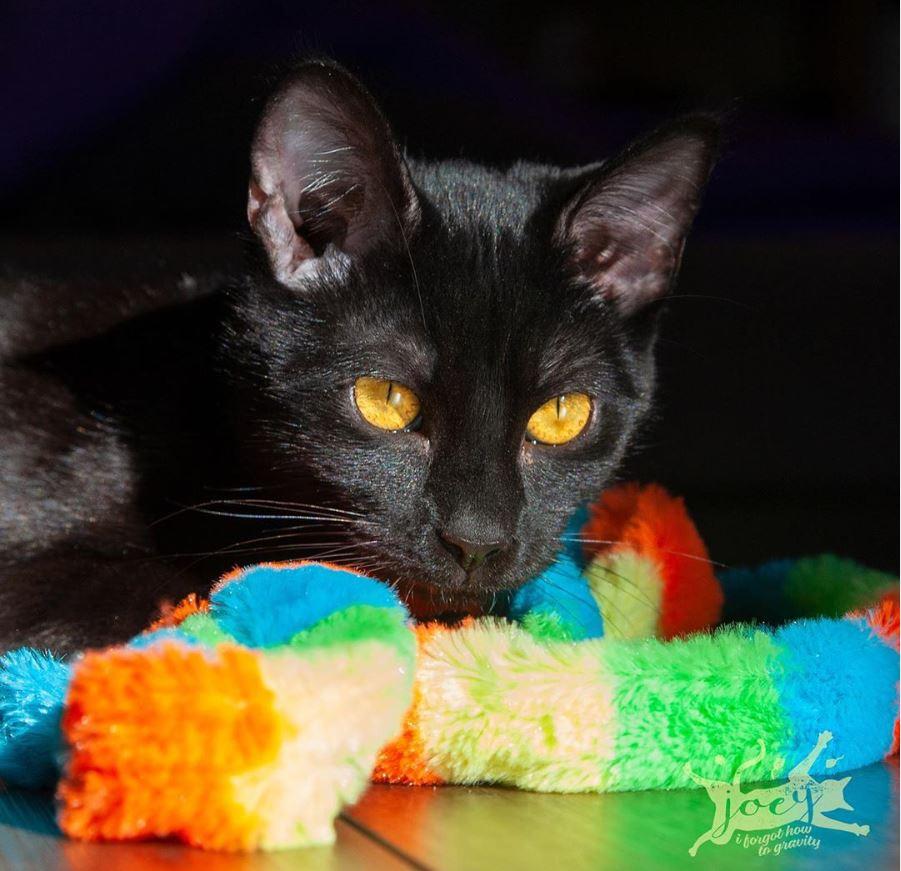 Basepaws Cat Story: The Tale of Joey & Tom
Handsome dark chocolate-furred and lemon yellow-eyed, Joey was adopted during the beginning of the COVID-19 outbreak by pro-Cat Dad, Tom Puckett, on March 4, 2020. 
"We've always adopted from local shelters over the years. Shelter kitties seem to have the best personalities. Plus, they are very grateful to have a stable home for once in their young lives." Tom says.
And with his home already a multi-cat home before Joey came into his life, Tom recalls Joey's adopted brother Mico's adoption story.
"We adopted Mico in November of 2019. He was born and fostered in Bayamon, Puerto Rico, before heading to New Hampshire in September of 2019. A good friend of ours adopted him from the New Hampshire SPCA in October but had to surrender him due to extreme allergies. We had seen what a sweet personable young kitty he was, so we offered to give him his forever home."
Tom already had an 18-year-old female cat named Mocha in the home before adopting Mico and he was a bit unsure of how they would get along.
"Mico spent his first month in a separate studio space before we introduced him to Mocha. Despite Mico's relentless charm offensive, Mocha preferred to keep him at a distance, even though we believe she really enjoyed his companionship." Unfortunately, due to Mocha having a number of health issues, including diabetes, Mocha passed away not more than a month after being introduced to her newly adopted little brother Mico.
With Mocha's absence,  Tom decided to adopt another cat sooner rather than later.
"Because Mico was such an active, social cat, we knew he would not do well on his own. He seemed depressed after Mocha passed." 
After speaking to their veterinarian, who suggested Tom look for another boy cat around the same age and activity level of Mico, Tom tells us, "This made sense to us considering Mico was one of a litter of four male cats." And so their quest to find Joey begins! 
"We began our search using the Petfinder app, which is where we spotted Joey!" Tom tells Basepaws, "His description sounded like what we were looking for; "Super adorable, super sweet and super playful." So they contacted 'FuRRR Feline Rescue' in New Hampshire and filled out the necessary applications. 
"We were contacted a few days later on a Saturday morning by a volunteer and were told that Joey was available to be seen at the Petco in Rochester, NH. We drove down from Portland, Maine that afternoon."
After a 4-hour car ride, Tom had arrived at his destination.
"Petco let us interact with Joey in a separate room. He was very curious and had a bright, happy expression on his face." Tom continues. After about 40 minutes with Joey, he knew he would be the perfect match for Mico.
"I did some light roughhousing with him to see how he would react. All paws and no claws. Bingo, I thought. We picked him up at the FuRRR shelter a few days later."
FuRRR Feline Rescue is an open, cage-free environment, so Joey was able to mingle and interact with other cats during his short stay. "We knew this would be of benefit when we introduced him to Mico." Says Tom.
"We brought him home and kept them separated for a while before introducing them. We've never had the best of luck with cat introductions in the past, so we decided to be as cautious as possible." Tom continues, "We let them play with each other under the door, and there was no hissing. A good sign!" Later, Tom put Joey in a carrier and brought him into the room where Mico was. "Mico seemed excited to see his new brother, so we let him out. They sniffed each other briefly, then started playfully wrestling. It was amazing to watch. Since then, Mico has taken on the role of "big brother" while Joey has become his shadow."
Tom tells us, "They are completely inseparable now, and we are installing an outdoor "catio" so they can spend some time outdoors watching the chipmunks and squirrels."  
Tom decided to have Mico tested first by Basepaws. Their vet told them that he seemed to have the personality and physical traits of a Bengal breed.
"It was fascinating to read his report and see all of the different breeds that actually went into his DNA makeup. We later had Joey tested (thanks to an offer of a free kit!) and found that he followed a similar pattern to Mico!"
Joey's Basepaws DNA report comes back to us as Western Ragdoll (40.7%), Easter Birman(8.6%), Exotic Egyptian Mau (5.1%), and Persian (10.8%). All of these beautiful felines make up our wonderful shelter adopted, Joey!
Tom on Mico and Joey's relationship, "Little did we know how perfect they were for each other. Joey and Mico get along as if they are littermates. They wrestle and play together and even sleep together. We've never had cats that go along so well!"
To keep up with Mico and Joey head over to their Instagram page @Mico_el_mono
We at Basepaws want to inspire, encourage, and motivate those of you who are considering becoming a cat guardian to adopt shelter cats during this COVID crisis.
We hope you've enjoyed Joey, Mico, and Tom's adopting during COVID story as we here at Basepaws have!
For more information on the COVID crisis and your pets, please click here
For other COVID adoption stories, please click here