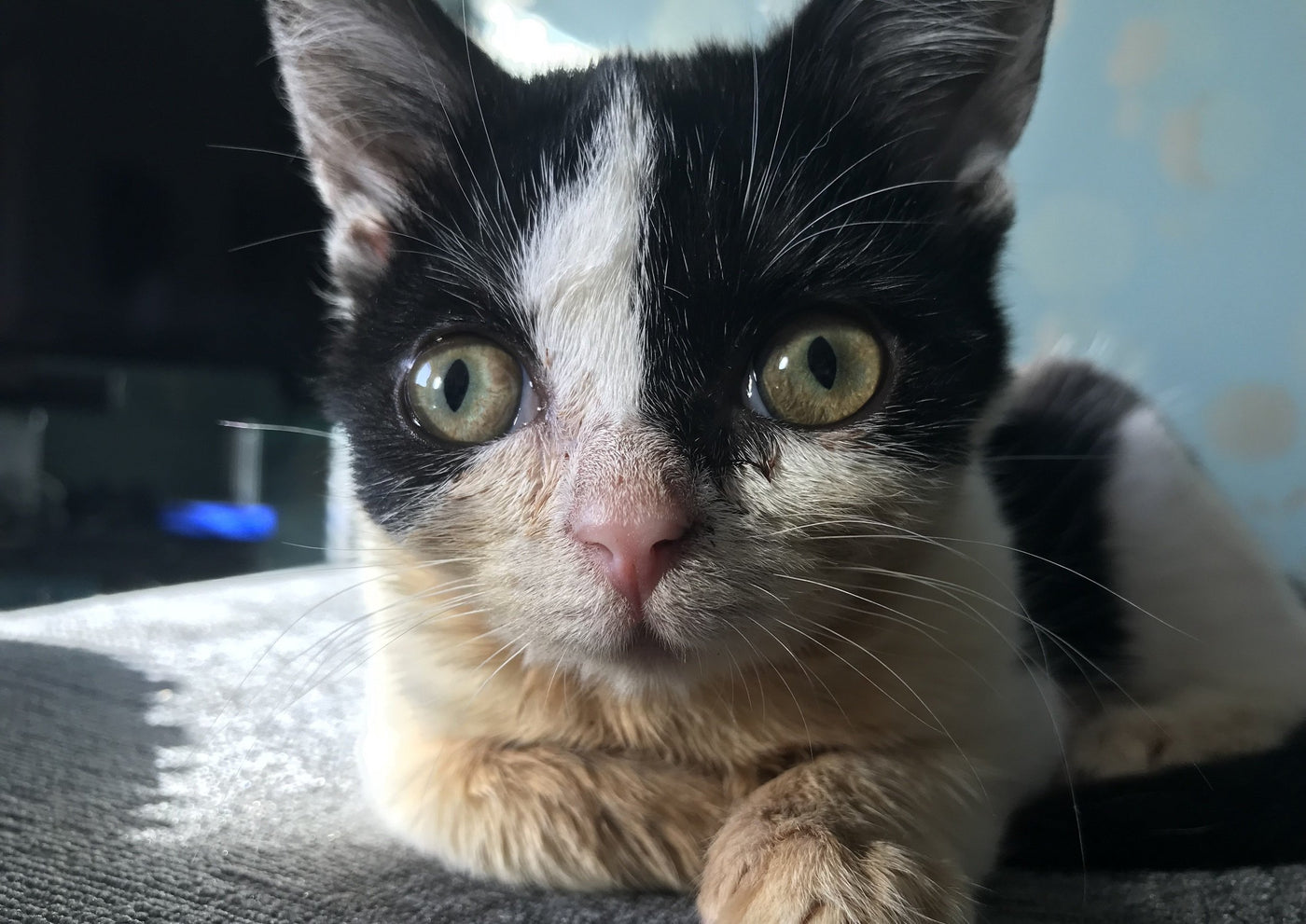 Basepaws Cat Story: The Fairy Tale of Little Tayto
"Tayto had the sweetest nature, no matter what she went through. Even at the vets, she was her lovely wee self. I have never known a cat or another animal like her." - pet hooman Rachael about Basepaws cat Tayto.
Basepaws aspires to create new opportunities and discoveries in the world of cat science. Sadly, as beautiful and exciting as our research is, it can sometimes take a heartbreaking turn. One of the most heartfelt stories we want to share with you today is the story of Basepaws cat Tayto.
Tayto was the most lovable kitty who suffered from dwarfism and had sadly passed away in October last year. Tayto's cat mom Rachael DNA tested Tayto in an effort to learn about her genetic background and, hopefully, help other cats of a similar destiny.
Basepaws cat Tayto
"We knew that Tayto was different from other cats and we were interested in finding out exactly how and why she was different. Right down to her unique genetic code. Basepaws instantly seemed like it would be a great way to do that whilst also helping the wider cat community." - hooman Rachael introduced Tayto to us.
"Tayto become a part of our family whilst my husband and I were on our honeymoon, my friend asked me if I knew anyone who would adopt a young kitten who had dwarfism. I immediately said yes! My first thought upon seeing her was that she adorably cute and second, because of her "condition" who would take her if not us, what would happen to her if she did not find a home? Fast forward a few weeks later, Tayto was brought to us and she made herself at home straight away."
Basepaws cat Tayto
Tayto was a truly special kitty. "We knew Tayto was born with a type of dwarfism due to her small size and stunted growth compared to her siblings. Prior to coming into our care exactly what type had not been confirmed by a vet. Once she arrived, I took her to the vet for a thorough checkup, and the vet confirmed she had Osteochondrodysplasia – which she displayed as proportionate dwarfism. She was also born with no teeth and they never grew in either. Other than this, the vet said she was in perfect health which was great to know!" - explained Rachael.
"Around 8/9 months old, Tayto began having difficulties in walking, first it began with her back legs and within a few weeks had worsened causing difficulty in her front legs too. We were referred to a neurologist to find out what was the cause. It is during this time we ruled out such diseases like MPS, thyroid/pituitary associated dwarfism. Whilst we were able to exclude certain conditions we were not able to find the specific cause except that she displayed signs of osteopetrosis. Which in Tayto's case caused abnormal bone formation (very little bone marrow, which had a significant impact on her ability to produce the precursor cells involved in red and white blood cells). Tayto got better for a few months before sadly she relapsed."
"Tayto was no longer able to get around herself and needed a lot of care and medication. None of which I begrudge her at all. Because of the osteopetrosis, she also experienced recurrent bacterial infections as her immune system could not fight them off and she suffered from chronic anemia. On the worst day of my life – we chose to let Tayto go before life got any harder for her as her condition was so rare and unknown that there were no viable treatment options for her. She was only 16 months old."
Basepaws cat Tayto on her 1st birthday
Rachael shared that before passing away, Tayto was an exceptionally sweet, loving and cheerful kitty. And this is how we want her to be remembered! "Tayto's favorite thing was cuddling, she loved nothing more than to be close to you. In bed at night if I moved away, she would shuffle closer, she loved to be held and would fall asleep in your lap. For someone so small she sure did take up a lot of room, she would lie on you stretched out like Superman! She also loved to eat! She could easily put away around 10% of her body weight in food each day, as she had no teeth. Also, she was naturally a very messy eater and her wee face would be covered in food by the end of her meal."
Tayto was also a people cat and she loved everybody! "When she first came to us so many people were excited to see her, and since that moment she always thought people came to visit her. She'd jump into my friends' lap and climb up to their shoulder." - added Rachael.
Rachael was interested in learning a little bit about Tayto's genetic background to decipher the secrets behind her meowgical uniqueness. Tayto's DNA is exceptionally valuable to us though, as we are hoping the data collected from her will contribute to the new discoveries in cat science. This way, hopefully, Tayto may help diagnose and treat cats with similar health issues.
"So far, we have received our first set of results detailing Tayto's ancestry and which breeds of cat she shares similar genetic traits with. The report has shown us that Tayto has been assigned to the Western breed group (which includes breeds such as American Shorthair, Persian, Siberian and British Shorthair to name but a few), these results are based on the comparative genomic similarity between them." - shared Rachael.
"We were surprised that Tayto was more similar to a Maine Coon cat than 96.12% of the cats in the Basepaws database. This was most surprising as Tayto was born with a genetic defect which causes dwarfism making her very small, as most cat lovers will know, Maine Coons' can grow to be very large!".
Rachael is also a fur parent to another little kitty named Bob. When Rachael first found out about Tayto and decided to adopt her, she wasn't sure how Bob would accept her. "Tayto and Bob got along great – at first, we weren't sure how Bob would take to having a new cat in the house, but we quickly found out that he would be a gentle giant and took care of little Tayto." - Rachael on Bob and Tayto - "Tayto had the sweetest nature, no matter what she went through, even at the vets she was her lovely wee self, I have never known a cat or another animal like her."
Basepaws cat Tayto
Rachael, a scientist herself, is very invested in the advancement of science and health: "We made the decision to have Tayto's body donated to the hospital where she was being treated, this was so we could understand her condition through an autopsy and aid in the training of vets. Through this, we learned that not only did Tayto have osteopetrosis, but a disease called osteogenesis imperfecta or brittle bone disease. It was these conditions which lead to her inability to produce the precursor cells involved in RBC's and WBC's leading to her chronic anemia and her inability to fight off infections."
"I myself am a scientist and because of Tayto, I now work in the lab that provided the diagnostic analysis for her. I felt so helpless and unable to save her that I took on the job in the same hospital that treated her so in a small way I could help other families and hopefully prevent them from experiencing the incredible loss I felt when we said goodbye to Tayto. When I first heard of Basepaws, I immediately appreciated the work involved and the idea behind it. My hope is that through the sequencing of Tayto's genes we can learn more about her and at the same time provide insight into uncharacterized conditions helping the wider cat community."
Basepaws cat Tayto
Tayto was a lovely, sweet and innocent little pet. She brought a lot of love and happiness into the lives of her family and we are all left heartbroken without her. Rachael, we are deeply sorry for your loss and we thank you so much for bringing Tayto into our lives and sharing her story. We want Tayto to be remembered as the sweet soul and a tough fighter that she was. She is not just the hero of this story, she is the hero of our hearts furever.
In an effort to celebrate her legacy, Tayto's family has a line of merchandise where all of the proceeds are donated to shelters, rescues and fosters around the world. Follow this link to contribute and help a kitty in need!
"She really meant the world to me and she showed me what it is like to love someone unconditionally. Losing her has been the worst experience in my life but loving and caring for her has been the best thing to happen to me. She wasn't just a cat, she was my family and I'll always think of her that way." - pet hooman Rachael.
Basepaws cat Tayto