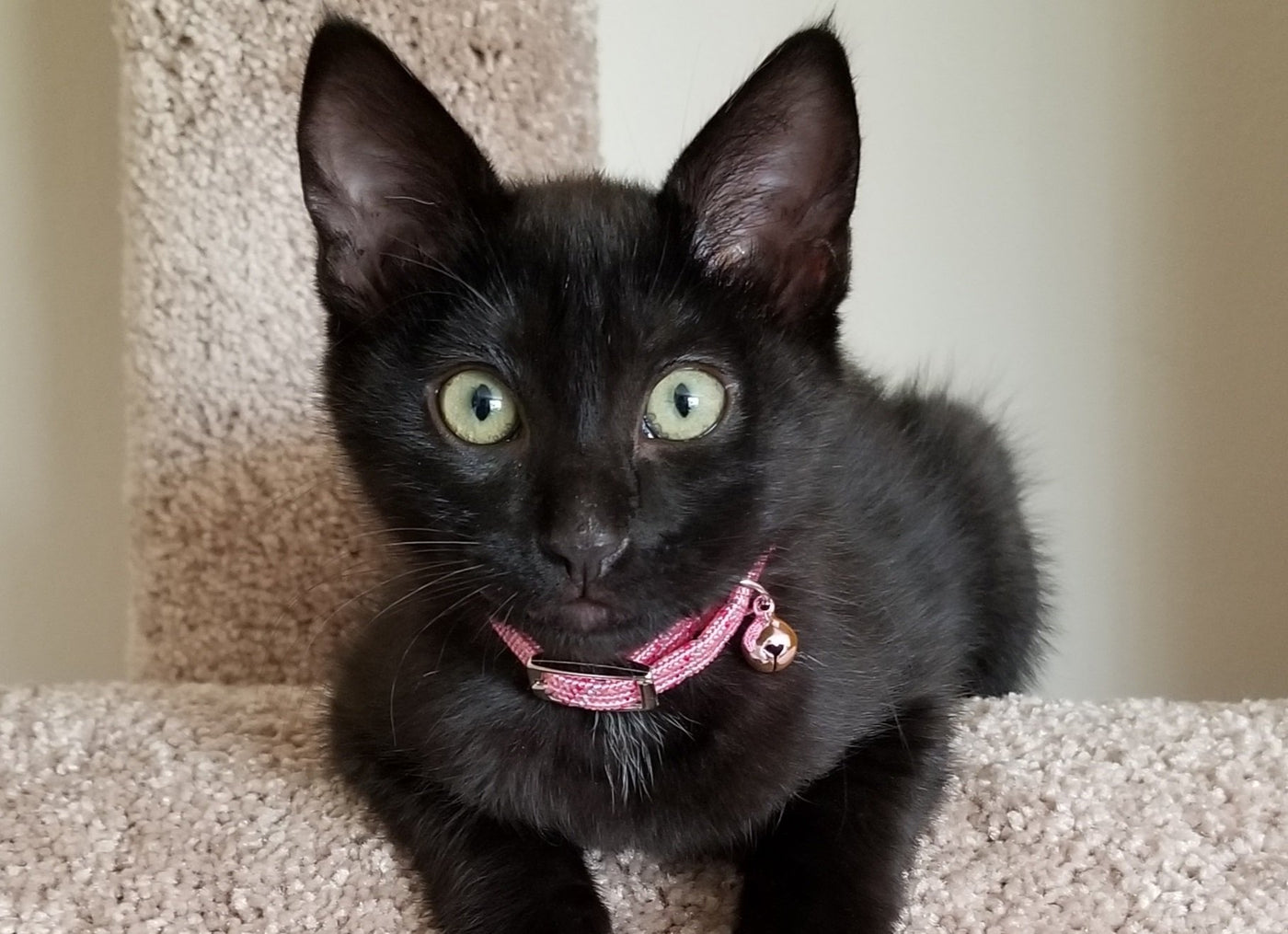 Basepaws Cat Story: Please Meet OliveJune
About nine months ago, Basepaws cat OliveJune, a (then) five-week-old rescue kitty from the ASPCA, was discovered and adopted by her hooman guardian Linda. Little did Linda know, with this little kitten she was in for an unexpectedly wild ride.
Today, a happy and healthy OliveJune seems to be on a mission to lovingly disrupt Linda's life with the trouble and humor Linda never knew she was missing. And yes, Linda's life is now all better for it! Ladies and gents, please meet the most darling troublemaker of the Basepaws family – the heart-winning OliveJune.
"My cat is not insane, she's just a really good actress." - Phyllis Christine Cast in Untamed.
Basepaws cat OliveJune
Linda is a cookbook author, animal lover, and a proud cat guardian of two. She introduced her lovely OliveJune to us when she decided to explore some of the kitty's well-kept secrets. Linda rescued OliveJune as a five-week-old orphan without knowing anything about her history or family.
While our science team is decoding OliveJune's DNA, we asked Linda how OliveJune found the way into her life. "Well, you see, I have another cat named LilyRose. I also had a cat named Mona, who lived to be 22. LilyRose loved Mona and wanted to be friends with her, but Mona hated LilyRose and hit her all the time. So, when Mona died, I kept thinking whether I should get LilyRose a new friend. I waited a couple of years when I finally decided to post on LilyRose's FB page that she's looking for a new friend." - confided Linda in us.
Linda's friend Vanessa soon answered to the post and said she had someone for Linda and LilyRose. At the time, she was fostering a little black kitten who was just about ready to leave for her new furrever home. And so, Vanessa invited Linda over to meet the kitten.
"I wanted a new kitten, but to be honest, I didn't expect it to happen so fast. I ran over to Vanessa's house after she texted me and met this tiny black kitten who weighed less than 2 pounds. She wasn't very nice though. She was like a little wild animal. But she was very cute!" - explained Vanessa - "She also has a little kink in her tail. It wasn't from an injury, it was genetic and she was born with it. And I sort of liked that she wasn't perfect."
Soon enough, the young kitten was brought into her new home and introduced to her new family. "I decided to name her OliveJune because she has beautiful green eyes and I adopted her in June. I thought it very beautiful and personal. LilyRose is named after flowers because she was born in Spring." – shared Linda.
Basepaws cat OliveJune
To Linda's disappointment, the beautiful girls didn't actually become the best of friends. "I thought LilyRose wanted a friend and I hoped she would get along with OliveJune. But instead, it's like she was asking me "Why did you do this to me?". She absolutely hated OliveJune."
Linda told us that the LilyRose seems to be starting to tolerate the kitten better than before and the two can now stand each other's presence. Sadly, the friendship doesn't seem to be anywhere in the sight. Linda simply explains "OliveJune is just 10 months old. She's nuts because she's still a kitten. And LilyRose doesn't want any part of it."
Basepaws cat OliveJune (right) with her sister LilyRose (left)
We asked Linda to tell us a little bit about the personalities of her beautiful cats. And from what we learned, the two couldn't possibly be any more different. LilyRose, a 12-year-old Siamese mix, is a calm, cuddly and peaceful cat. She's very vocal and cheerful but isn't as much of a runner and jumper like the restless OliveJune. "LilyRose is so smart and vocal. I can actually talk to her. She will come to me and make a conversation with me."
LilyRose
OliveJune doesn't meow. She makes her statement by punching and jumping. Just like any fun little troublemaker would do! If she wants food, she will hit you to let you know. If she needs your attention, she will jump on your feet and grab onto your legs to demand it.
"OliveJune is a huge troublemaker. She's not a sweet, affectionate cat. But she's not feral either. She's just a typical cat who likes to make trouble and eat." - concluded her hooman. OliveJune is the kind of a cat who knows what she wants and when she wants it, "For instance, if I bring chicken from the store, she will run to me and hit me, demanding it."
When she's not making trouble for her hooman and her feline sister, the chances are that you will find OliveJune watching TV. She loves it more than any cat toys and she's not too picky when it comes to the content.
Basepaws cat OliveJune watching TV
OliveJune is a fun-loving, sassy cat of a pawsome personality. Linda, thank you for taking the time to talk to us and for letting us get to know your loving kitty. We hope that this short piece allowed you an insight into the life of a darling Basepaws troublemaker OliveJune. If you're hungry for more, don't hesitate to scroll through more of her photos over at LilyRose's FB page!
Basepaws cat OliveJune looking through the window
Ever since we started our journey, many cat-enthusiastic hoomans joined us on our mission and brought their beautiful kitties into our growing family. And when we're not busy sequencing, researching or cooking up new surprises for you, we love getting to know you and your fantastic furry companions a little better. Sometimes, we simply have to share some of these pawsome stories with the whole family!