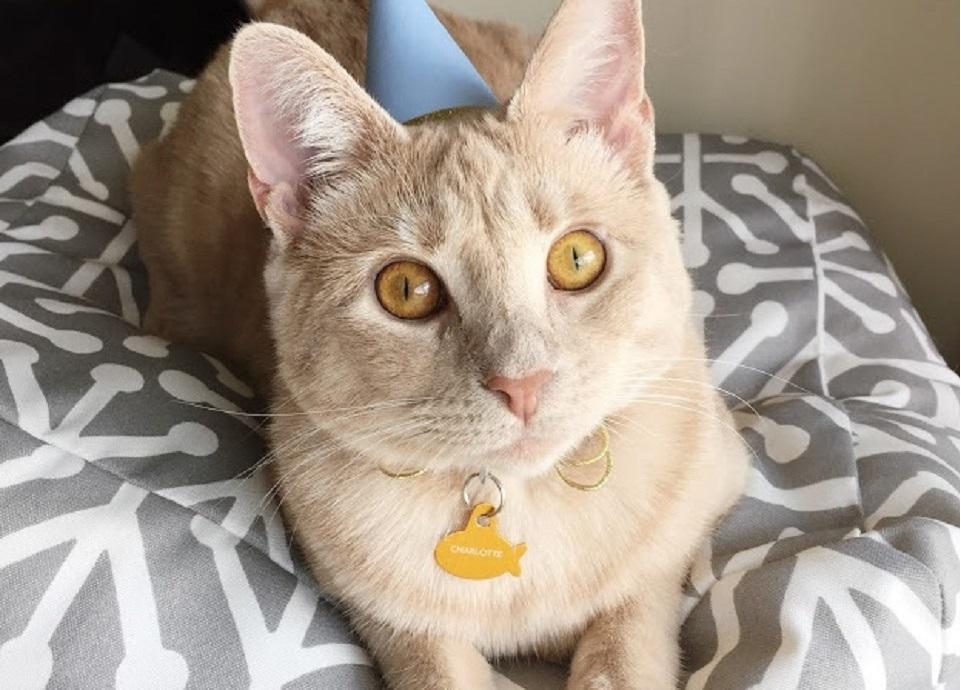 Basepaws Cat Story: The World of Charlotte the Blondie
Basepaws cat Charlotte, one of the most charming kitties in the Basepaws family, is victoriously the most purrfect life companion her hooman Ashleigh could ever wish for! This gorgeous little cat seems to have it all. She is fun-loving, snuggly and she selflessly makes sure her mom is never short of cuddles and laughter.
We recently spoke to Ashleigh and she gave us a little tour through the world of her little blondie girl. Charlotte is a beautiful and elegant little cat. Her unique, captivating appearance and remarkably calm and compliant personality make up for a truly special companion. She has large, strikingly beautiful eyes and enormous ears. Her coat is buff tabby, but her hooman, Ashleigh likes to her a little blondie!
"She was even blonder as a kitten. She was very light, and her coat eventually darkened to this honey-like shade. She does have some spots and stripes, just like any tabby, but I think her color is very special. So, I like to call her my little blondie." - explained Ashleigh.
Basepaws cat Charlotte with littermates
We asked Ashleigh how Charlotte pawed her way into her life: "I grew up with a dog, so I've never really been a 'cat person'. But when a friend of mine was going away for a couple of months, I offered to look after her cat so it wouldn't need to go back to the shelter. Unexpectedly, I actually got really attached to this cat. I got so used to having a furry friend around that when my friend took her back, I ended up feeling so alone in the house! She would greet me when I was home and she was so flexible with my schedule. So, I decided I needed to find a little cat for me!" - Ashleigh started to reveal.
"I went to a website that pulls all the information from local shelters and foster families looking for homes for cats and other pets. All I knew is that I wanted a girl kitty, preferably snuggly and short-haired, so she doesn't shed as much as the other cat. So, I filtered the results and... she came up with her brother and sister (photo below)! She was so tiny! She was described as very socialized, playful and the snuggliest one out of the three in the litter." – Ashleigh fell in love with her instantly. – "She was SO cute and all I could think was 'OMG I want this cat! She is so purrfect!' It was also the first time I saw a blonde cat like her, and I was very intrigued."
"When I went to visit her for the first time, I held her for three hours. Three hours! It was unbelievable for me, as the cat I previously cared for never really let me hold her for more than a few minutes. I thought it was very unusual, and I remember the foster mom saying she's never seen her do that with anyone before. This is how I knew she was the one. So, I picked the foster mom's brain and found out Charlotte's food and toy preferences and everything about her so I can prepare my home for her. A few weeks later, when the adoption paperwork was through, I finally brought her home!"
First time meeting Basepaws cat Charlotte
"I feel very lucky to have her, and I am happy that the foster family chose ME to adopt her. I guess after our meeting, they were confident that she was going to a good place." - added Ashleigh. Charlotte quickly adapted to her new home and made a happy and comfortable life with her new mom.
"I still remember the first time she purred after I brought her in. We had spent about an hour in the bathroom, where I allowed her to calm down and start adjusting. She was exploring the new space and she was getting used to the new sounds. Then, when she was ready, I let her out into the living area and I put her on the couch next to me. Then she started purring! And she purred like a tank! I had no idea that this little tiny fluff ball could purr like that. I was so happy, thinking she must like being here! And she still purrs very loudly, and it melts my heart."
Charlotte is very friendly and snuggly. She loves to play, particularly with water. "Whenever I take a shower, she always goes in to inspect and play with the water. While I'm getting ready in the bathroom, she plays with the tap in the sink the entire time. She also loves playing with regular strings, her treat ball and the cat tunnel. She loves being involved in my everyday activities. When I'm cooking, she watches over me and inspects everything I make. She sniffs it, but she never eats any of my food. She has no interest in people food, not even boiled chicken. She only eats dry cat food and her treats. She loves to snuggle, and she always lays somewhere near me. I love having her around."
Basepaws cat Charlotte crafting with mom
"She's very social too. I trained her to walk on a leash, so I can take her around with me and keep her active and social. I want to have a nice, friendly cat, so I think it's important to keep her around people and other pets and socialize her. She loves being outside, watching birds and leaves. She doesn't mind car rides either."- told us Ashleigh. She also added that Charlotte is exceptionally obedient and patient. "She'll let me hold her and snuggle her, probably thinking "I'll wait it out and be free, eventually". I can do anything with her. I can trim her nails and clean her ears and eyes and she will not complain."
We asked Ashleigh why she decided to join Basepaws. "Growing up, I had a dog named Tucker. Last year in December, we were devastated to find out he had cancer. He had cancer in his jaw. It was a very tough time when we found that out." It was around this time that Ashleigh ran into Basepaws on Instagram.
"I thought, oh, DNA for cats! That's kind of cool, it could be very interesting to do this for Charlotte! So, I looked into it, and what really got me was the medical side of it. I could learn what she might be prone to and what to look out for as she ages, and I was like 'OMG I need to this, I need to know if she might be predisposed to something!'. It was a very much crazy-cat-mom moment for me. I loved the idea of being able to personalize her care according to her very unique DNA make-up. That's what was the seller-point for me."
Playing in the cat tunnel
"Just knowing what she's made of and what to look out for later in her life is going to be super nice. But I was also amazed with the breed index. I haven't seen a lot of buff cats like Charlotte, so I was very much interested in what was in her. And I didn't expect the results to be so dead-on accurate in terms of her personality! The results really captured her! Her first match was American Shorthair, and I think this one explains her eyes and fur."
"Then, she also got a Maine Coon. This explains her love for sinks and water. She always wants to play in the shower or with the taps. She's a hilarious riot! And the last match was the Russian Blue. This one definitely explains her enormous ears. She's got really huge ears. She also remembers people amazingly well, which is the trait of the Russian Blue. She doesn't let everyone pick her up and hold her like I do, but she remembers all the visitors even if they don't come over very frequently. She always comes up to them to say hello with a little headbutt."
She also got along very well with Ashleigh's old dog Tucker. "Before Tucker passed away, he and Charlotte were great friends. When they first met, Tucker was obviously a lot more excited to meet Charlotte than she was to meet him. He was hopping happily around her, but it took Charlotte a few meetings to fully accept him. She liked to follow him around and sneak up to him, and he never really understood how that game works. He never learned how to play with her. But they were both respectful of each other's space and they co-habitated together really well whenever they were together. Not a lot of cats hang out so well with dogs, and my family was amazed to see Charlotte together with Tucker." - Ashleigh let us in on Charlotte's relationship with her old dog.
Basepaws cat  Charlotte and Tucker in a nutshell
"I think Charlotte helped convert my mom to the cat world too. Now that our Tucker is not around, she misses having a furry friend. However, dogs require a lot more attention and interaction than cats, so she's now considering adopting a kitten too. She likes the flexibility that I have with Charlotte. Charlotte is perfectly happy when I leave her alone to go to work. She is independent, she plays with her toys, naps, and yet, when I'm home, she's happy to see me. She adapts to my schedule and we work so well together." – explained Ashleigh. - "When she hears me coming home, she starts meowing loudly for me. She headbutts me when I walk in and she wants to be scratched right away. It's great having a companion that loves you but remain so independent and flexible. Dogs are simply not flexible like this."
Looking through her favorite window
Charlotte is one happy, snuggly and easy-going kitty. We believe that her well-behaved and sweet nature must be the reflection of great care she gets from her hooman. We enjoyed getting to know this charming supermeowdel and learning a bit about her world. Her cuddles are reserved for her mom, but at least we can enjoy her pawsome Instagram photos! "She has the softest fur ever. It feels like you're holding a rabbit. She's so soft!" - revealed Ashleigh.
Ashleigh, thank you for taking the time to talk to us and for bringing your charming little bundle of joy over to our team! We love having you on board. Meow!
Basepaws cat Charlotte on a leash